Ambiances...
THE PURPOSE OF THE INTUITIVE PAINTING COURSES
Do some GOOD to yourself without thinking, softly an deeply
By letting yourself go in the proposed COLOUR, by TOTALLY immersing yourself in it, 1 week before and during the course
By letting your MENTAL, your INTELLECT, your KNOWLEDGE
By letting yourself get carried away by the rhythm of the proposed MUSIC; letting yourself inspired by the VIBRATIONS
By balancing the ENERGY of each CHAKRA corresponding to the worked colour
By symbolically evacuating, through painting, the BLOCKAGES caused by psychological and/or physical suffering
By balancing the LEFT AND RIGHT BRAIN by VISION exercises appropriate to each colour
By learning, through cards, your energy at the beginning of each course
By PLAYING with the proposed colour to AWAKEN the SUBCONSCIENT and put it to work
BE ACTIVE IN THE STEPS TO A BETTER SELF IN 7 WEEKS THANKS TO THE 7 FUNDAMENTAL COLOURS AND THEIR RESPECTIVE SYMBOLS:
(Chakras, Crystals, Cards, Yoga, Mudras etc...)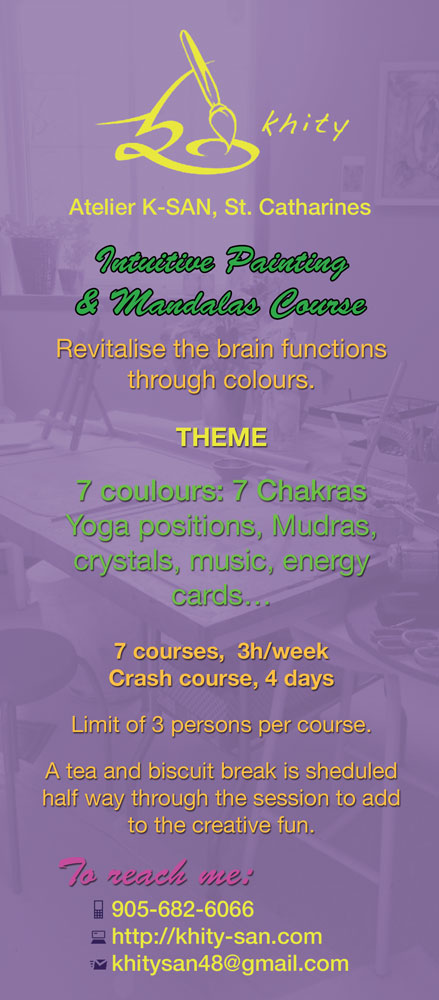 Directions to follow during the first 7 week session
3 hours per week
course of 3 people max
individual courses
Inscriptions are already open
by phone, by email or at the K-SAN studio
there are still a few spots available for the next session
Come color your mandals in Atelier K-San's studio.
BEFORE THE COURSE
The THEME will be provided a week in advance in order to allow you to prepare yourself and take note of your reflexions:
your impressions
your approach
your thoughts
your apprehensions ?
Etc...
DURING THE COURSE
Bring your notebook to write your FEELINGS at the beginning and at the end of each MANDALA colouring.
AFTER THE COURSE
Carefully reread your notes
soak up, every day, the energy of your piece
be attentive at what happens in your life in the following week
PREPARE THE FOLLOWING THEME
After the 4th course, an individual session is planned in order to look over and better understand your work.
Sharpen your pencils!